Pro Scripts is a separate section in ScriptShare where you can submit your script to the Pros, once you think it is ready.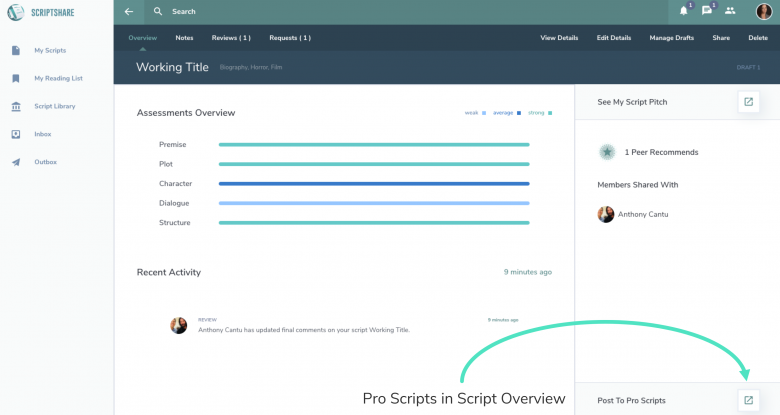 We did this so writers can feel comfortable uploading their script at any stage. While your script is in the script library you can exchange with fellow writers that know your script is a work in progress. Therefore, if a pro finds your script in the script library, they know you are in the process of rewriting it and should view the script with the understanding that it is not a finished product. Which means, they may be more likely to look at it with kinder eyes.
Another reason is, when you feel your script is ready, you can submit it to the pros who are looking for a script in your genre and type. Your script will be added to a smaller filtered list of scripts that are more likely to be of interest to an industry pro, which means your script is more likely to be seen.
A few things to consider before posting in Pro Scripts
1. When submitting to the Pro Scripts section you first have to agree to a submission release.
Submission releases are common in the film industry. However, we recommend you have a lawyer read through anything before you agree to the terms. Here's the submission release for you to read through.
We did this for the writer as well. We want legitimate agencies, management companies, and production companies to look at your work. This is what it takes for them to take interest in reading your scripts. Just think of it as the way for your script to get past that dreaded door that's marked unsolicited.
2. Submitting to Pro Scripts changes your script's privacy settings in Pro Scripts.
If you submit your script to the Pro Script Library, every verified Pro on our website can:
Access your full script details and the script itself.
Read it immediately without requesting access from you.
Add your script to a personal group of scripts that is shared with their fellow colleagues*
*All industry pros that are added to their list have to go through our verification process first.
We did this so your script would have the best chance of being seen, read, and shared by industry pros on the site. The more your script is shared through the industry pro lists the more likely you will be contacted by a pro that's interested in your script.
We understand that there are risks involved in this process, but we also know that in order to get noticed you have to put your script out there. We believe through our system you are more protected than through other means. However, we cannot guarantee 100% protection.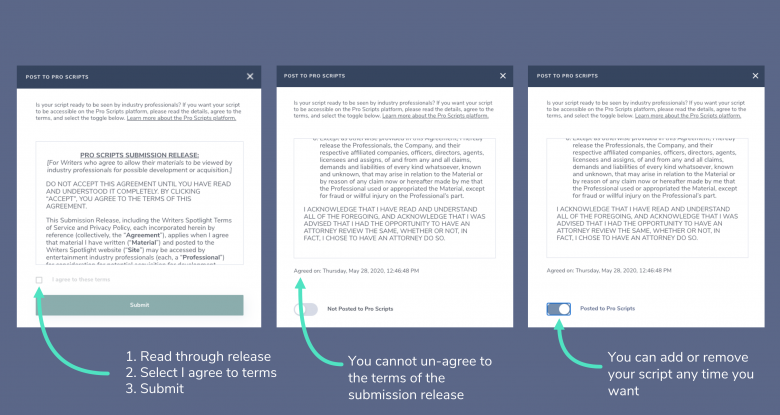 Can you remove your script from Pro Scripts?
Yes. You can remove your script from Pro Scripts. You may realize that your script is not ready or you want to submit a different draft. However, you cannot remove your agreement to the terms of the submission release.