TV Writing Samples: Basics of Pilots and Spec Scripts
Every Television writer needs SAMPLES.
A sample is an example of your work and writing style.
Samples are usually sent out by representation (managers or agents) when a show needs to hire a writing staff. The showrunner will use these samples and choose a handful of writers to interview to be staffed on his or her show. A sample can come in two different forms: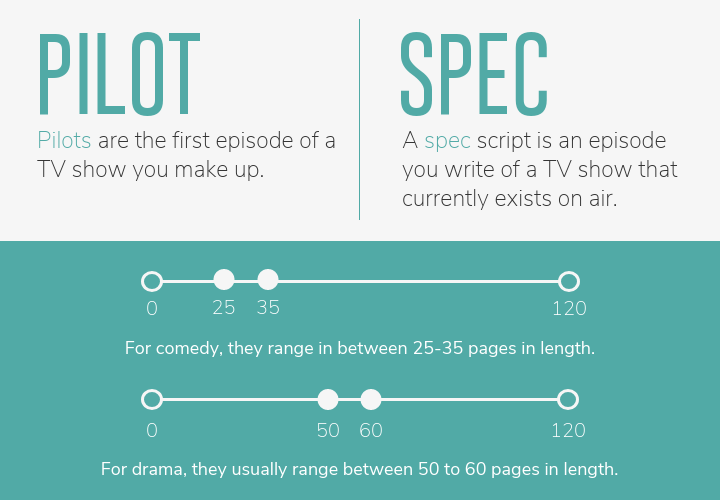 It is important to have both a great sample spec and sample pilot.
Write at least one spec per year and apply to the programs.
Write multiple pilots per year just to expand your portfolio.
PILOTS:
Pilots are currently the most popular sample being read by agents, executives, and showrunners. A major agency like WME, sends out about 99% pilots during staffing season.
Pilots show your unique voice. There is no hard and fast rule about a pilot, except that it needs to be really good, attention grabbing, and page-turning.
Write pilots that try to match in similar tone and style of the types of shows you want to work on, or what best plays to your strengths. For example, don't write a happy family drama if you want to work on a gritty cop show.
Pilots are great because they have a much longer shelf-life than spec scripts. They can also be used, not only as samples, but as material to pitch and sell once you have the connections to do so.
Pilots you write on your own, without being paid to do so, are sometimes called "spec pilots" which means, written on "speculation". These should not be confused with–
SPEC SCRIPTS:
A spec script is an episode you write of a TV show that currently exists on air. If you really enjoy The Walking Dead, for example, you could write a spec episode of The Walking Dead, a storyline you would really enjoy.
Today, almost no one reads spec scripts. Ten-twenty years ago, that's all anyone ever read. It could one day swing back into popularity, so don't discount them.

These programs require applicants to write spec scripts as submissions.
Spec scripts are also a great way to practice TV writing, especially if you are a novice. Why? You are already working with a strong structure, strong characters, clear voices and it is much easier than creating an entirely new world.
Spec scripts showcase your ability to MIMIC a show's voice. Showrunners value this because if you were to actually work on a show, you would be doing your best to mimic the voice of the showrunner.
Check out Chris Masi's next blog post The 9 Rules of Writing a Spec Script for Television!